2013 | Aanpassen hydraulische GIS modellen van de Maas
Doel is steeds het inzicht verkrijgen in de hydraulische effecten van wijzigingen binnen het winterbed van de maas of rijn bij zeer hoge waterstanden (maatgevende hoogwaterstanden), zodat de veiligheid niet in het geding is. In dit specifieke project (Aan de Maas) werden op een aantal lokaties de bodemhoogtes veranderd (aanleg hoogwatervluchtplaats en een parkeerplaats) en werden de ecotopen aangepast. Eerst werden de wijzigingen in verschillende GIS-bestanden van het Baseline referentiemodel van Rijkswaterstaat (HR2006_4) aangebracht. Vervolgens werd dit aangepaste GIS-model omgezet naar een WAQUA-model, waarmee vervolgens de 'nieuwe' stroomsnelheden, stroomrichtingen en waterstanden berekend konden worden. Nu konden de effecten van de wijzigingen worden bepaald door de hydraulische variabelen te vergelijken met die van de referentiesituatie. De wijzigingen bleken geringe hydraulische gevolgen te hebben, vooral omdat zij relatief ver verwijderd waren van de stroomgeul. Rijkswaterstaat had dan ook geen bezwaar tegen uitvoering van de werkzaamheden.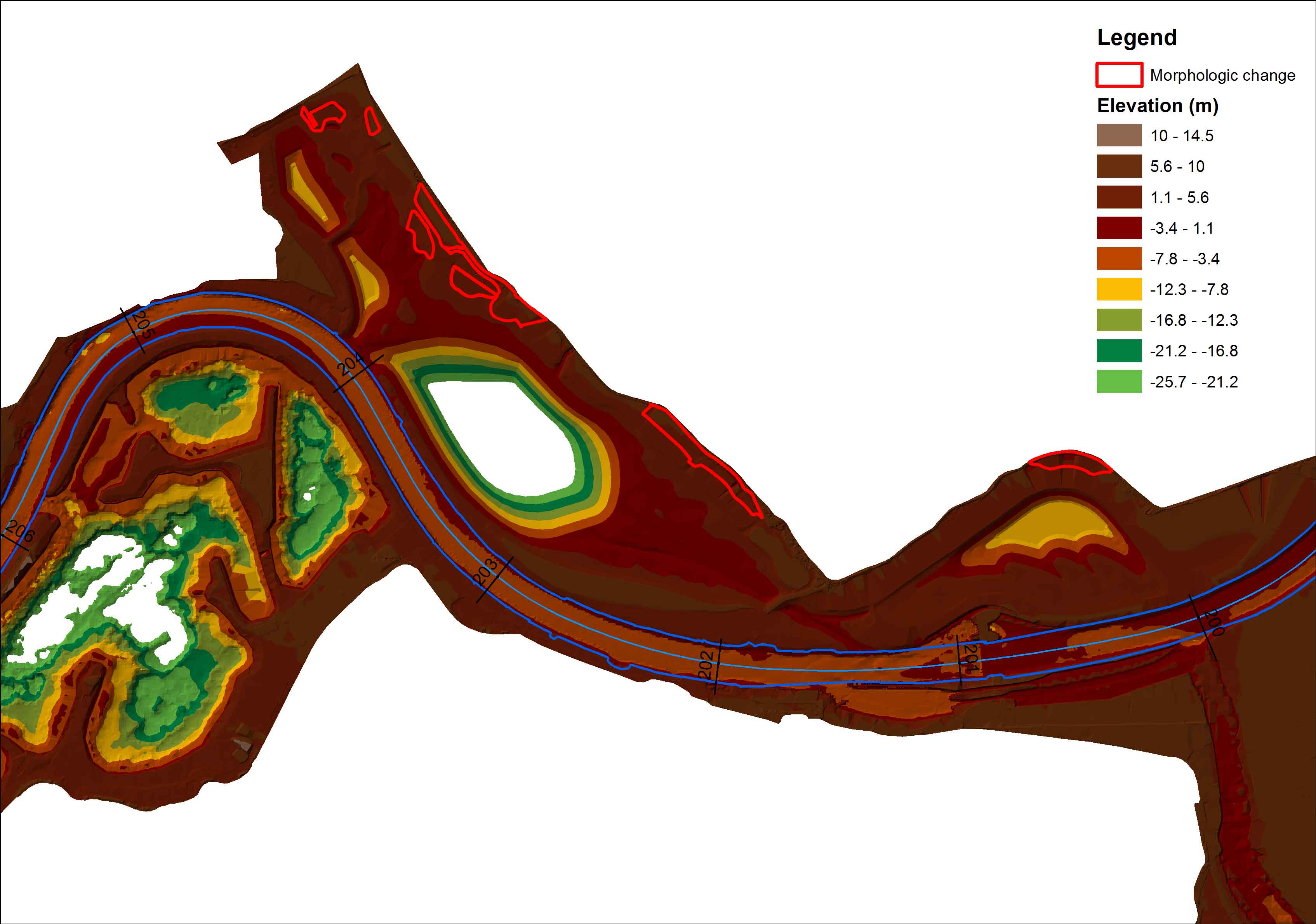 The objective of this project was to calculate the hydraulic effects of morphologic changes in the forelands of the Meuse river in the Netherlands. The changes include digging activities and changing of the vegetation cover and might influence the water level of the river. To achieve the objective, the eight changes were translated into GIS (with the program Baseline) and 'mixed' into the GIS reference model of the Meuse. The discharge of the new model was calculated (with the program WAQUA) and compared to the discharge of the reference model. The hydraulic effect caused by the changes were minimal, and could therefore be implemented without risk of flooding.